Adding a retaining wall to your front lawn can add a hind of elegance and sometimes help curb erosion issues. 2-3 feet tall retaining walls
Retaining walls are usually erected around areas that slope down toward your home. The reason you'd need to build a retaining wall on your property would be to prevent soil and debris erosion from constantly spilling down onto your lawn and landscape. This can be problematic during heavy rainstorms because the runoff can weaken the soil and cause it to slide down the slope. A retaining wall acts as a buffer.
Some walls are necessary to maintain the soil, there are also times where retaining walls can add a layer of curb appeal to your property. Retaining walls allow experienced landscapers to create tiers to add dimension and personality to your yard. In the following picture of one of our projects, you can see that the retaining wall can get rid of deep slopes on your property that would look unappealing.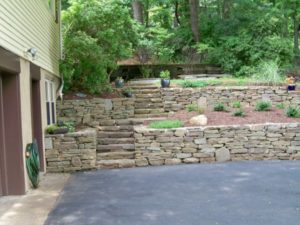 Another option here